Well, I've been playing lots while on half term holiday!
First of all, I was taken on a little visit to the astounding Glencoe on Sunday last week by my arty buddy at college along with her husband! Had a real hoot too as we are all mostly on the same 'wavelength'!
I took lots of photos but managed to sneak a couple with buildings in so I could use them in my sketchbook! It's themed on the 'built up environment' !
Here's the results of that little reconnaissance mission!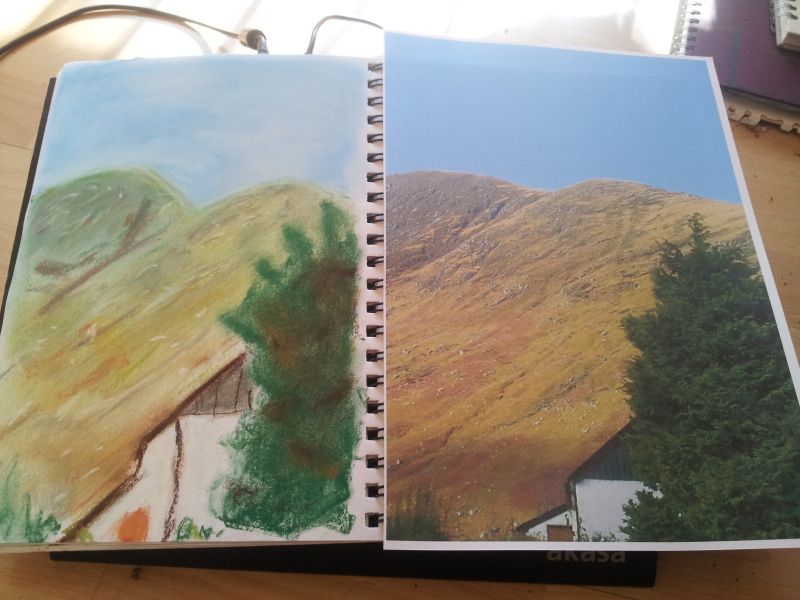 This piece is done in pastels and was basically a colour matching exercise, did not too bad with what I had in my box and I'm quite pleased with how it's turned out!
This one below took two attempts because it's a perspective challenge, we haven't covered that part yet so i was a bit unsure as to how to go about it, but I sussed it out and I'm really pleased with it! Again it's done using pastels, I really do like these, and will certainly be using them more often!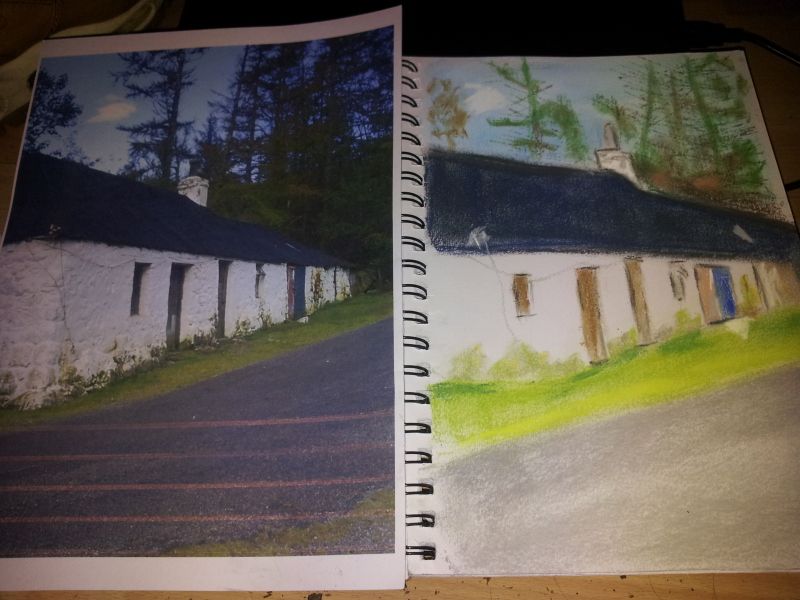 Now this piece below...well...I just HAD to lol.....I'll get away with it because there's still a building and a practice session so there won't be a problem! I hope!!
That church is actually a photo of The Tron in Edinburgh, which for any Scots reading this will know is situated in the Royal Mile and looks nothing like that!!
I printed off the photo in grey scale then over painted it with some Gouache, set it aside to dry while getting to work on the background.
It's all done using Gouache paints with some household items used for a textured feel, did the grass on the left with cling wrap lift off! This paint is great because you can go back and reactivate it to do something else to it, hence I managed to get all the lovely smudging effects for the grass!
The tree and wee Raven birdie are drawn by me, the moon was done by using an old book page and drawing round a CD, I just painted over it and used a stippling effect with the brush to give the moon 'dimples' !! The big Raven is a clip art image I downloaded and cut out, as are the grave stones on the opposite page. I just found a suitable quote and wrote that on an old book page which was coloured using an orange promarker!
I am thrilled with the way this has turned out! And, I seriously hope that the lecturers will think the same.
So thanks for reading my update on the sketchbook project,
Take care everyone
Jackie xx