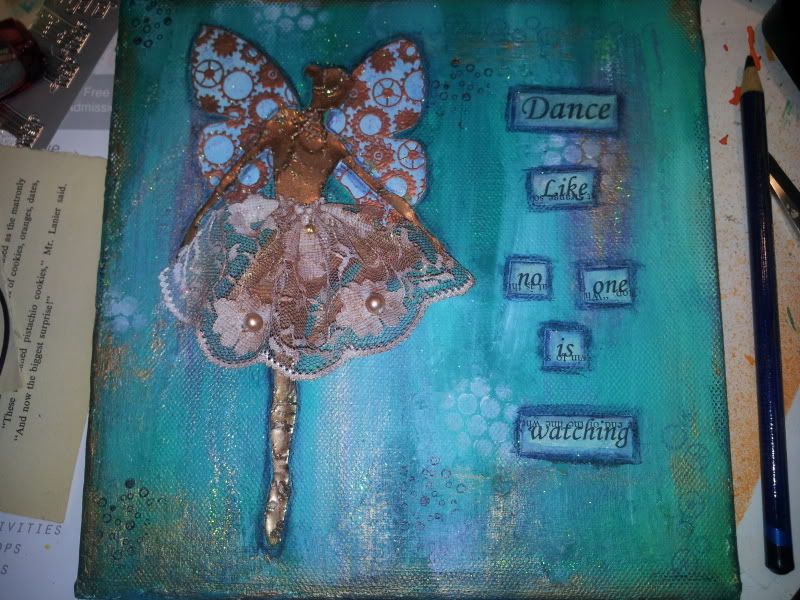 Been having another play with some mixed media stuff today and I am really pleased with the end result for a change!
Started out with an old 6 x 6 canvas that I had done previously and didn't like it , so I 'canibalised' it! Managed to leave some seriously stuck paper to it which was a bonus because it actually gave me a little texture.
Anyway, I gave the whole a going over with some Gesso, when dry, I randomly painted on some acrylic paint, added another colour, some white and a little copper metallic paint.
The 'fairy' is the same as the previous one done in the journal page, a clip art image which was shrunk down. I used versamark clear ink and then heat embossed her in copper, added another coat then stamped into it while still hot with my favourite crackle background stamp.
Her wings are done using the
Tick Tock Butterfly stamp from The Artistic Stamper
and stamped using versamark clear and copper embossing powder. Her skirt is a piece of cream beaded lace I had in my stash so I just lightly painted it with copper metallic paint and then when dry I gathered it up with a few stitches and then stuck it down with a hot glue gun
Printed the phrase off onto some old book pages and coloured them using Denim Distress ink. Randomly stamped a cogs border and spot border and also used a little sequin waste with some white acrylic paint. Edged everything off with an Indigo Blue Inktense pencil and then rubbed over some Crystal Stickles!
Really pleased with this piece and I am thinking about entering it into an exhibition being run by the college. Not very often I am confident about my work but this piece has changed that for the time being.
Thanks for reading,
Take care and enjoy the rest of your weekend.
Jackie x