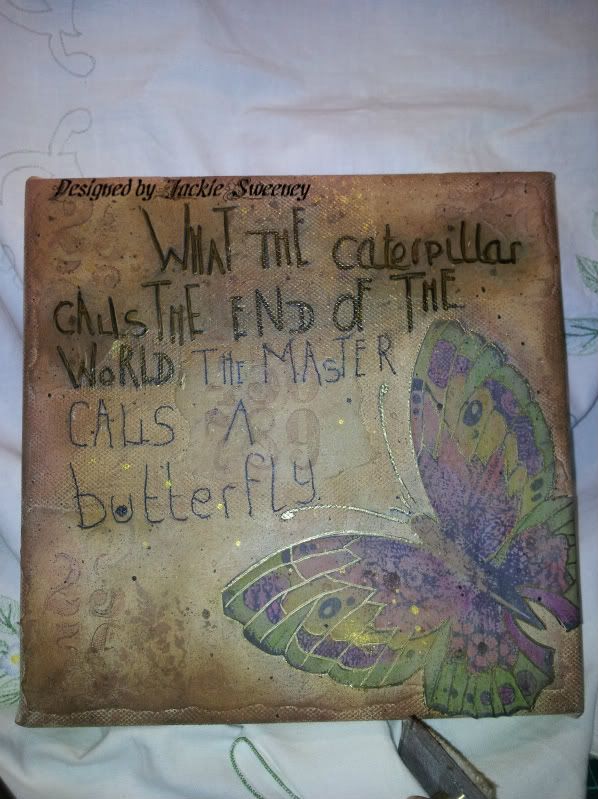 A little 8 x 8 " canvas piece . Quite pleased with this despite the fact that I smudged the writing and kind of obliterated the v
backing papers lol... sometimes though things turn out ok in the end. :D
Anyway , I did actually use some of Tim Holtz's backing papers from the Crowded Attic paper pad but sadly you can't really see them. Never mind, maybe next time I won't be so 'heavy' with the paint! Still, I just mixed a couple of yellows and browns and some White to give me different shades and just gradually layered and blended until I was happy.
I used two stamps sets on this piece both from Chocolate Baroque , the first one was the
Butterfly Whimsy theme plate
and the biiiiig butterfly was from
The Patchwork Butterfly
along with some of the scrolls. The numbers were from a stamp from my stash!
The Butterfly was stamped onto grey paper then coloured using inktense pencils, then painted over with some white gesso to 'tone it down' a little . I love the muted colours in this piece! I just accented the butterfly and letters with a gold marker pen.
Not brilliant but I now know where I went wrong and won't make that mistake again!
Thanks for dropping by,
Take care
Jackie x