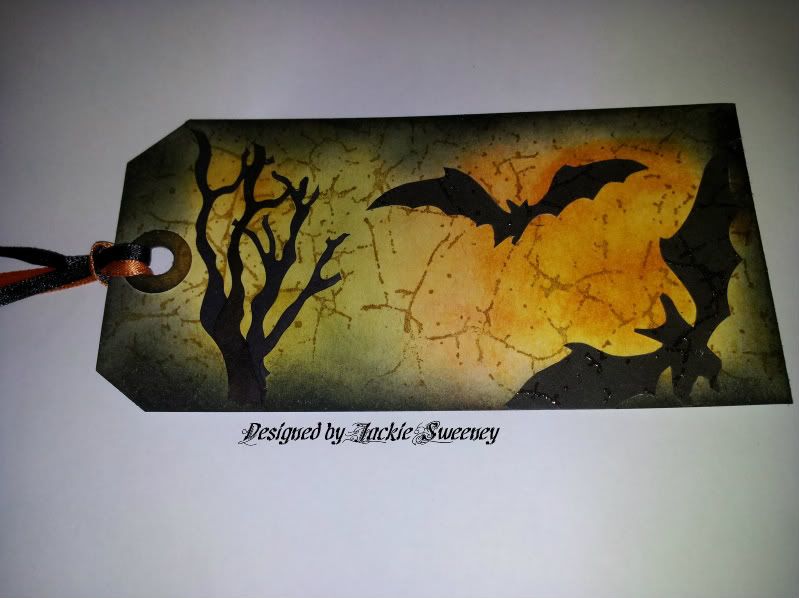 The Theme this week over on The
Sunday Stampers Challenge
is Halloween/Bats!
And trust me! This WAS a challenge for me, because, I have nothing remotely Halloween-ie in my craft stash AT ALL!! Simply because I am on such a tight budget that I tend to buy products I can use all year round rather than just once a year, if you get my meaning.
Anyway - to the tag....
A plain white tag distressed with, Wild Honey, Dried Marigold, Fired Brick and Forest Moss. I over stamped the background with a crackle background stamp using Brushed Corduroy Distress Ink. The bats came courtesy of google lol I printed them off, cut a couple of them out and then stamped over them with the crackle background stamp and clear embossed over that! The tree is the decorative strip Birds and Branches die, I just cut some of the branches back and cut the leaves off! I then Distressed around the edge of the tag using Black Memento and a bit of a kitchen sponge, I don't have any proper Black Distress ink I'm afraid, so I kind of had to improvise a little! lol
I added some ribbon which was white, coloured it with an Orange Pro Marker and a Black Pro marker!
Improvisation seems to have been the whole story with this tag really but it's turned out ok considering!
Thanks for looking in,
Happy Stamping
Jackie x