In my comfort zone with this piece!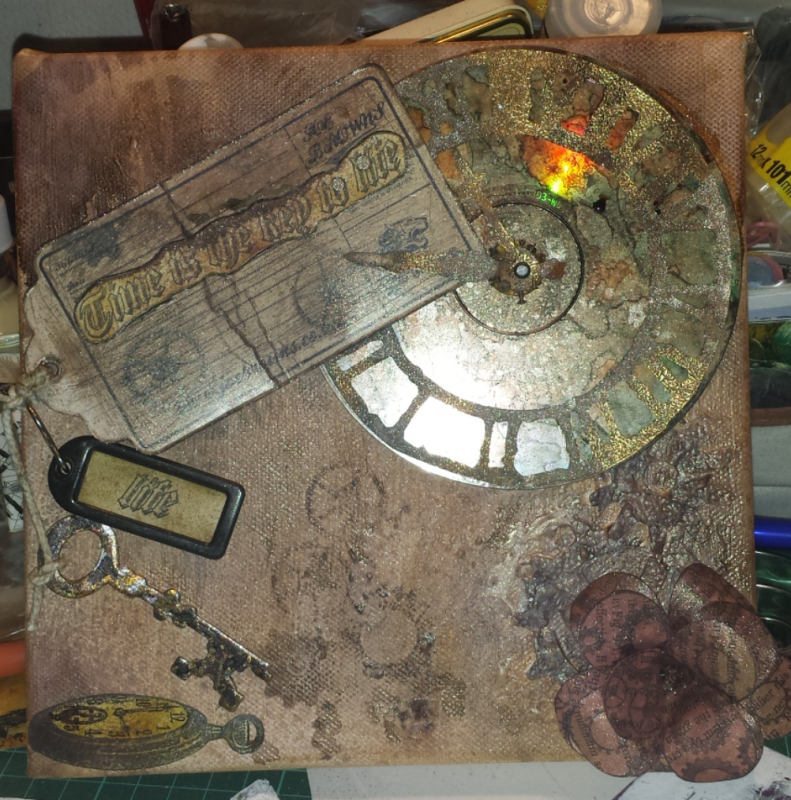 This is a 'reworked' canvas. I 'canabalised' an old piece I had that I wasn't very happy with, Gave it a good sanding down then a coat of gesso. When dry, I added a couple of die cut Cogs from foil that I had lying around in my stash, another coat of gesso was added. Gave the whole thing a zap with the heat gun to dry and make it crackle and bubble for texture. I randomly brushed over some acrylic paint to give a wood grain effect and the zapped it all with a heat gun again.
i used Tim Holtz Clocks and gearwheels masks and dry brushed through those with some brown acrylic paint. Over stamped that with the small cogs background stamp from the Artistic Stamper.
The clock is actually an old CD which was then covered with alcohol inks. The dial and hands are from the Weathered Clock Alterations die and glued down on top.
The label came from a pair of jeans, i sanded it down, distressed it using Antique stain distress ink and over stamped that with the cogs background stamp. The quote is from the Time theme plate stamp from The Artistic Stamper and was distressed using Brushed Corduroy ink pad. part of that phrase was used in the old key fob with the same technique.
The key is a die cut which i then gilded with gilding flakes, Over sprayed with Black Marble Dylusions to take the shine off it and then just gave a rub over with some black Stazon.
The pocket watch is again from the Time theme plate and was stamped onto card, distresses with Brushed Corduroy and then I heat embossed it with clear embossing powder to give it a 'glass' face.
The 3D rose is from the Steampunk Roses theme plate again from The Artistic stamper and this was stamped onto an off cut of paper that had been sprayed with Dylusions Inks.
I just added some tiny watch parts to the centre of the rose to finish it off.
I had loads of fun making this piece and I think I will enter this in an Altered Art challenge.
Thanks for stopping by,
Take care and have a great day.
Jackie x