I have been working on my Art portfolio this weekend because I have an interview for a place on an Art course at the local college. While doing so I came across this sheet of paper, it was used to spray the letters for the inside cover of my portfolio...... I was (still am) too skint to buy a proper portfolio so made my own lol....I do hope it will be ok...anyway...I just couldn't throw that piece of paper away...don't know why really, maybe it's just a 'crafter's thing'....lol....so I just had a little play with it! Just basically 'doodled' some 'stuff' with Sakura Gellyroll Stardust pens in matching colours!!
Here's a photo of the cover.....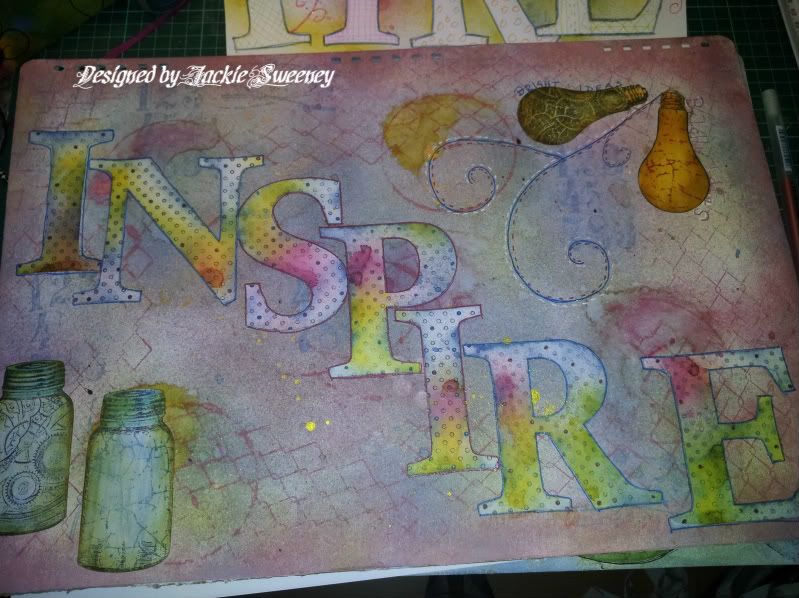 The letters were done using the Eazi-score Large Upper Case letters templates....just sprayed with Glimmer mists and over stamped using the
The Dots background stamp from The Artistic Stamper
...
Anyway this is just a fly by post today, want to get this portfolio fully finished today if I can, I have a four week work placement to attend starting next week and won't really have the time to finish it off before the interview for college!
Thanks for dropping by
Take care and have a great weekend whatever the weather!
Jackie x