well, I managed to squeeze in some more "me" time and did a little crafting for myself. I've had this idea in my head for a while and decided it was time to try and see what I could do with it.
I started off with a canvas board that I had done something else and wasn't happy with so I decided to recycle it. I pasted some torn up newspaper over the base with wallpaper paste. When it was dry I gave the whole thing a coat of Gesso, left it aside overnight to dry then painted over it randomly with acrylic paint , rubbing away some paint with kitchen roll to let some of the newsprint show through. I also used some die-cut cogs as stencils and dry brushed around them randomly over the background.
The big heart is textured and done using Pollyfilla mixed with PVA glue instead of water. I drew a big heart shape on a piece of card then cut it out, stuck the "stencil" down with some pritt stick and them spread over the home made texture paste. Lifted off the stencil and then it dry overnight. I then gessod' over the heart and when dry I painted it rubbing some paint off to try and give it some 'shading'. when dry I embossed with Cosmic Shimmer gold embossing powder.
Here is a close up of the textured heart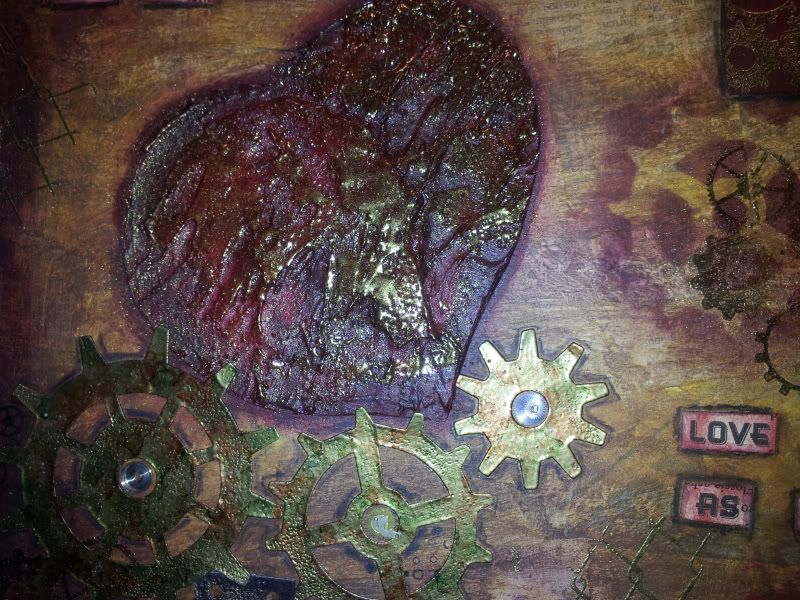 The cogs are the Alterations Gadget Gears die which have been embossed with gold embossing powder then gone over with some alcohols inks to give a bit of a rusty look. Did the same with the wings and crown from the Alterations Winged Heart die. The small heart is just painted red, and over stamped and embossed using the
Small Cogs stamp from The Artistic Stamper
background stamp. I used the same stamp randomly over the background but stamped twice, once with black Archival ink and again in clear versamark which was then embossed with cosmic shimmer gold embossing powder. I also used a chicken wire background stamp and embossed that in gold randomly as well as some small cogs.
The frame is an old slot together tapestry frame which was painted black/brown. I attatched the picture using a door hinges die cut from grunge paper and then painted black, I cut off the fancy end and then glued them to the frame, gave them extra support with a drawing pin painted over with black promarker. For hanging I just twisted some wire together. I added some watch parts to the centre of the cogs and also the drawing pins, then dry brushed over some copper colour acrylic paint just to age it a little. The quote is one from Johnny Depp and was printed off onto some old book pages and distressed with Fired Brick distress ink.
Really pleased with the way this has turned out, as I said earlier it was just an idea and I wasn't really sure what I was going to do to attatch it to the frame, but as I was working on it things just seem to fall into place.
Thanks for dropping by and taking the time out to read.
Take care everyone.
Jackie x