This piece was started as a final project for mixed media class in college. My lecturer wasn't really too happy about me submitting it and wanted me to do something else, which i did and didn't like the end result. So having made a really good start on this and with all the annotation being done I decided I wasn't going to let it go to waste and just finish it off.
It is based on and inspired by
Finnabair
, who's work I think is amazing !
I won't go into a massive big spiel about the whole piece because I think you can basically see what was used, but I will explain certain techniques in simplified form or else I'd be here for ages lol !
First of all my photograph was loaded into Photoshop, I just used some of the filters to alter it slightly, printed it off the proceeded to rip it up! The frame it's in is actually made from some air drying clay. I used a Sizzix 'Frame' die cut and traced around it, also used a clay work tool to trace through the shapes on the frame. Set it aside to dry and then painted it with acrylic paint. I triple embossed the photograph and when cool, I 'cracked' the embossing. I then stick the photo behind the frame.
The bottom left hand corner is actually some pollyfilla and pva glue. while this was still wet I embedded some beads, buttons and various other objects also added some fusible fibres and some paper flowers.
The butterflies and 3D roses are from
The Artistic Stamper Steampunk range
. I LOVE these stamps and have used them a lot in projects!
All the other 'oddments' are basically 'stuff' that was found in my stash or my 'junk drawer'....now i know you all have one of those!! lol.
Old key fobs, broken jewellery, broken watches, miniature playing cards, etc.
The top left hand corner is a piece of knitting done with ribbon yarn.
Just added various die cuts and a few other bits and pieces.
I sprayed over the whole thing with Glimmer Mists in Blue and Green, Used a darker Blue Cosmic Shimmer and a Copper cosmic Shimmer.
I also used Dylusions Blackand Brown.
Here are a couple of close ups of the details.... top right hand corner,
Bottom left hand corner....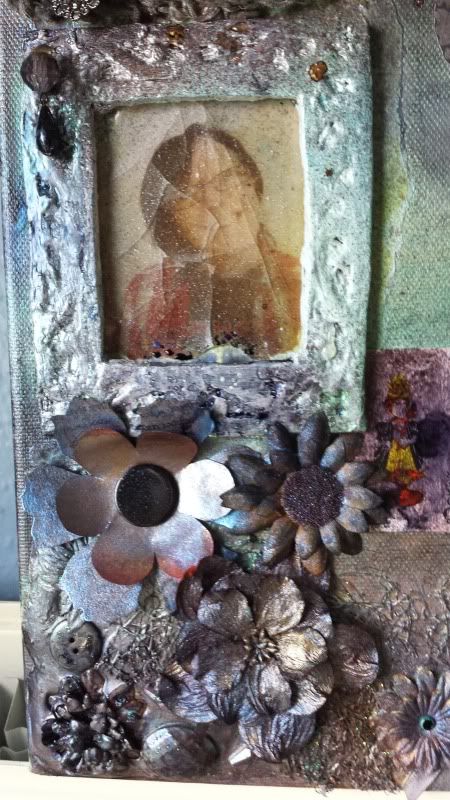 I am really pleased with the way this has turned out. I am going to take it in to class on Monday anyway just to find out the reaction. I may get to use it as my final piece in the end because all the work is done on it, but we shall see.
Thanks for dropping by, feel free to ask if you have any questions and I'll do my best to help.
Take care and Happy Bank Holiday to those of you who have one. (we had two days at the start of the month in Scotland).
Take care
Jackie xx