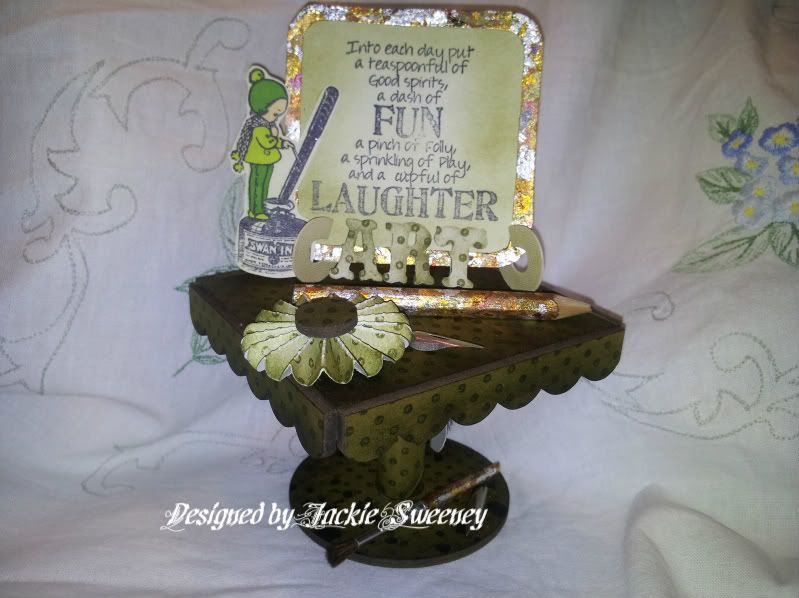 This one is for my sister in law who is an Art Teacher! I had loads of fun putting this one together! So without further ado here's how it was done....
First of all I painted all the parts with Peeled Paint Distress Stain, then over stamped with
the Dots background stamp
in Forest Moss Distress ink. Put the whole lot aside to dry then started on the embellishments!
The stamped phrase is again from
The Artistic Stamper
and is stamped onto cream card in Black Archival ink and then distressed with some Forest Moss distress ink. The 'frame' is a bit of a cheat because I didn't have any to fit that phrase, they were either too small or too large, soooo, I made my own lol! I drew around a Distress Ink pad for the outer frame and for the inner I used the lid!! I cut it out and then proceeded to gild it! The word " ART" is an Alterations die which was distressed and stamped over, then stuck down to the frame and the little girl is the
Mabel Lucy Attwell Pen and Ink stamp
and is coloured using Promarkers! I stuck that to the side of the frame and then mounted the whole thing on a little 'easel stand!
The pencil is one of those little wooden ones from Ikea lol! It fitted the top of the cake stand perfectly so I gilded it!! Added a vintage pen nib and an Alterations mini Rosette which was distressed and stamped using the same two shades of green and the Dots stamp!
Here's a close up of the top....
The base was over stamped with
The Ink Blots
background stamp in Black Archival Ink. I then added an inexpensive little paintbrush which had a plastic handle. I used my wire cutters and cut it to fit the base, I then Gilded it as it was a nasty shade of purple!! I added another vintage pen nib and then a little butterfly to the 'leg' of the stand!!
Here's a close up of the base (apologies for the quality of this picture) ...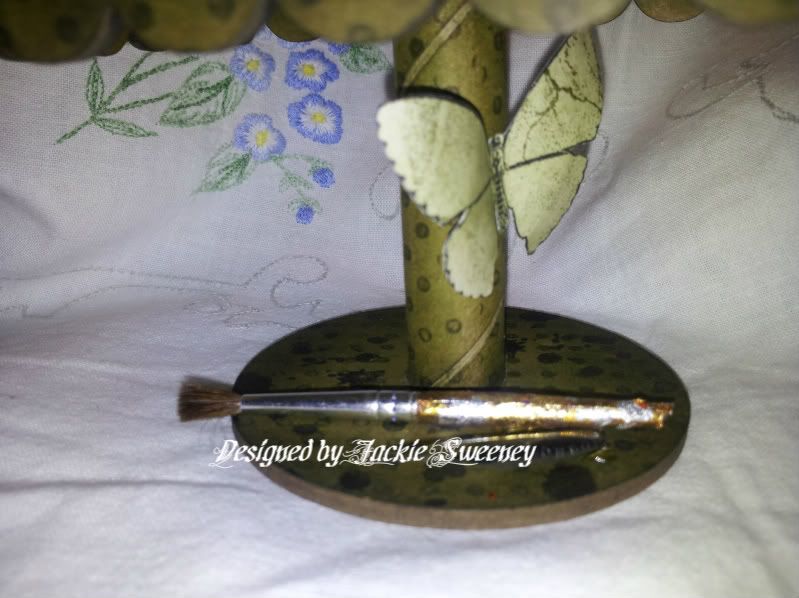 So there you have it! I do love these little stands! There are soo many different things you can do with them!! Had a bundle of fun decorating the pencil and paintbrush!! I think my sister in law will enjoy this piece!
So now I'm off for a coffee break and then partake in a Sunday Challenge, I missed it last week!
Take care and thanks for dropping by
Jackie x