Good afternoon eveyrone, such a glorious day to be stuck inside playing so I went outside to enjoy the weather. Not very often Scotland has it warm sunny so I'm making the most of it while it lasts!
Seeing as I'm coming to the end of my college course all of my class work AND HOMEWORK is now finished... YAY ! .... I find myself with more time to ry out some of the techniques we learned in class.
The photograph above is a variation of one I tried with watercolour paints , so I gave it a wee try just to see how it would turn out. REALLY pleased with this and I will definitley use it again. Makes great backgrounds!
This was done on WATERCOLOUR paper, simply because it needs to very VERY wet to get such good results so I would advise on using only the watercolour paper.
I sprayed on some Vibrant Turquoise and London Blue Dylusions inks, and some Copper Coloured Cosmic Shimmer, blended them together with a water spray then just sprinkled over a generous ammount of rocksalt, left it to sit for about 5 mins then sprayed over again with the same colours. I set the page out in the sun to dry! You are better to let this AIR DRY though, so patience is a must. I think you get better results rahter than using a heat gun. Drying times all depend on the conditions really. Mine dried super quick because it's scorching in Scotland today.
Here is one I did in different colours, exactly the same technique on this time Iused some of the salt that I had brushed off the previous one as well as fresh salt just to see what happened, got a nice bit of colour transferrance and you can really see the texture on this piece.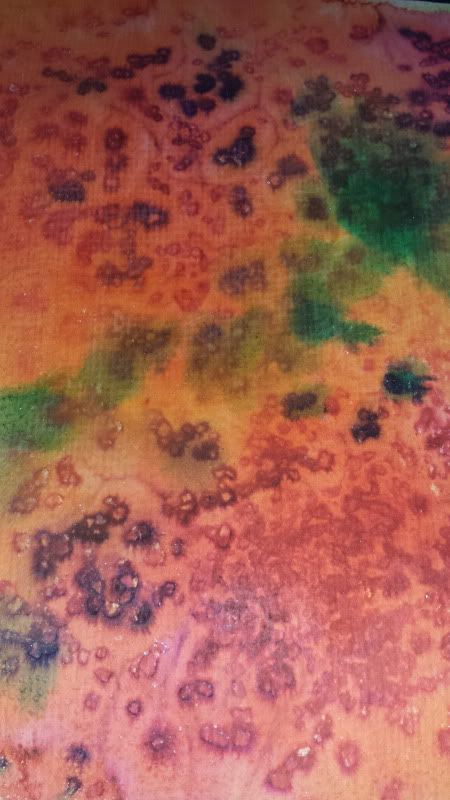 Had fun doing this and you can bet I'll be using this technique again. But don't think I'll use the 'brights', much prefer the muted colurs and the copper addition.
Anyway, it's a lovely day som I'm going to sit outside and have a little arty play.
Take care and enjoy your weekend everyone, Thaks for dropping by,
Jackie x