Sorry I'm a day late with this, I didn't really feel like crafting much yesterday after the funeral on Saturday, it was a tough day!
Anyway I DID manage something today though!
Over on
Hels Sunday Stamper
the theme is "eyes" !! And is that a tough one for me!! I have a 'thing' about eyes and they tend to freak me out! Silly I know but if they are 'detatched' in any way I just go cold!!...I'm fine as long as they are on faces!! lol
So without further ado I'll show you what I came up with....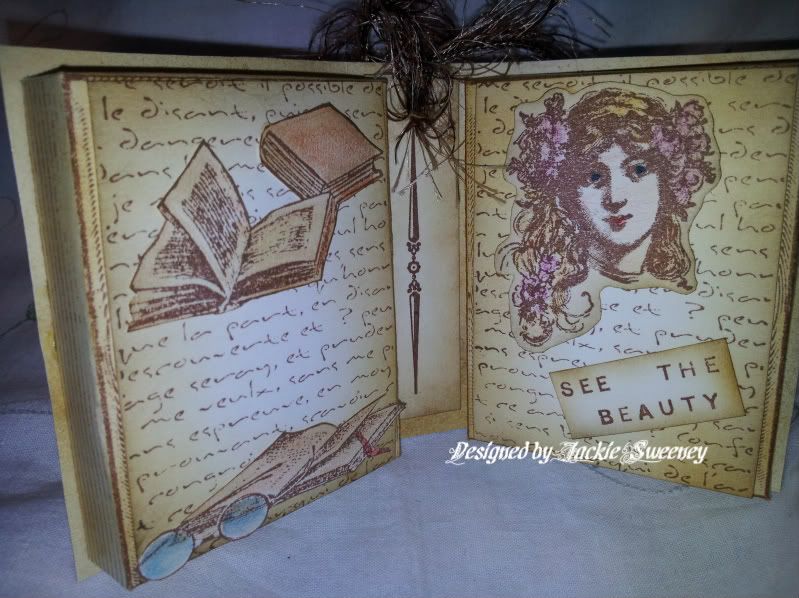 See! The book DOES have something to do with eyes!! lol.... all be it in a round about way...but I got there in the end lol
I've had this Altered Book Stamp from Sunday International for years and only used it once!! How shocking is that cos it's simply fantastic! Absolutely LOVE the 3D - ness (is that a word?) lol... of this piece! And it wasn't hard to do either.....just stamp and cut it out! And then decorate to your choice! The only stamps that aren't in the 'kit' are the Gibson Girl and the phrase....everything else came with it. I coloured all the embellishment lightly with Inktense watercolour pencils but left them dry then Distressed over them with Brushed Corduroy Distress ink to give them an aged look. The cover was done using Versafine Vintage Sepia for the stamp, then distressed with Brushed Corduroy and fired Brick, I used Walnut Stain, for the crackle background stamp and then just sprayed over some Antique Brown spray ink. I added some Glossy Accents to the eye glasses to make them look like glass, then just added some funky fibres to the 'bookmark'!
Really enjoyed doing this piece! And just simply had a blast watching it all come together, Hard to believe it's all done using two sheets of A4 cream card!!
Thanks for looking in,
Take care
Jackie x