Before I go any further I must apologise for my lack of blogging.
I have been sharing hospital duties with my sister in law, her mum took ill just before Christmas and was admitted to hospital, sadly we had the dreaded phone call this morning to say she had passed away in her sleep.
She will be sadly missed by everyone. RIP Margaret.
I had actually started this project yesterday with the intentions of finishing it this morning, but considering the circumstances I had to leave it for a while.
I decided to finish it off after dinner just to take my mind off things.
Anyway , this weeks challenge is " Gold"! So after finding this little picture frame in a box that was 'forgotten about'! lol...I thought I could do something with it! Looking at the finished article I think some of my inspiration has come from Jennie and Hels!! :D
Right enough waffling and lets get on with how it was done!
I painted the frame with Black Metallic paint, let it dry then dry brushed over some Gold Metallic paint, let that dry then gave the thing a rub with some sand paper to 'distress' it! Put it aside and got on with the backing, which is some Tim Holtz paper from the Crowded Attic pad. I distressed it with Brushed Corduroy Distress Ink, then sprayed some Antique Brown and some Gold spray inks over the top! Put the whole thing aside to dry.
The rose is from
Chocolate Baroque
an is one of my all time favourite stamps!! It's stamped onto some Tim Holtz paper then coloured using Inktense watercolour pencils. The
Pocket Watches
are from
The Artistic Stamper
, one is stamped onto plain card then heat embossed with Gold detail embossing powder, the other is stamped onto a chipboard shape which was distressed with Brushed Corduroy Distress in and then stamped with Black Archival Ink.
The cute wee snail, the Butterfly and the Leaves from the 3D rose are all from
The Artistic Stamper's Steampunk Range
. The 3D rose was done using
The Flower Power
plate , again from
The Artistic Stamper
. It was stamped onto some more of Tim's papers then Distressed with Fired Brick Distress inks.
Here's a close up of some of the details....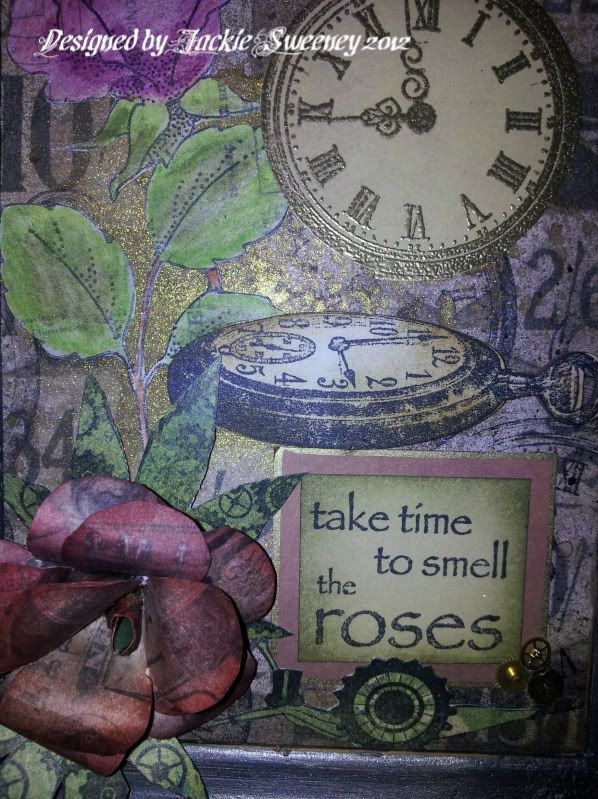 Quite pleased with the way has turned out because I wasn't really sure if I could concentrate enough to finish it off.
Thanks for taking time out to read this long post,
Take care
Jackie x