Well, I've finally got around to decorating some pages in my Altered Book that I'm doing courtesy of
Elizabeth
!! Who is in fact wonderfully helpful and a fantastic tutor! Thanks to her I have the courage to try one of these, and I'm thouroughly enjoying every minute of it!
As you can see by the photos the "Vintage Ecclectic" theme went right out the window!! lol....Instead I just decided on a techniques theme , it came about by accident really after doing the inside cover pages. I tend to just 'go with it' when doing projects rather than planning, it's just the way i work really. I tend to use what I have because I'm a bit strapped for cash most of the time so will make do with what's there rather than buying if I can gewt away with it!
Anyway... here's a photo the inside cover pages....(please excuse the ginormous bulldog clip, but the page kept closing so I needed somethng to hold it open while photographing it)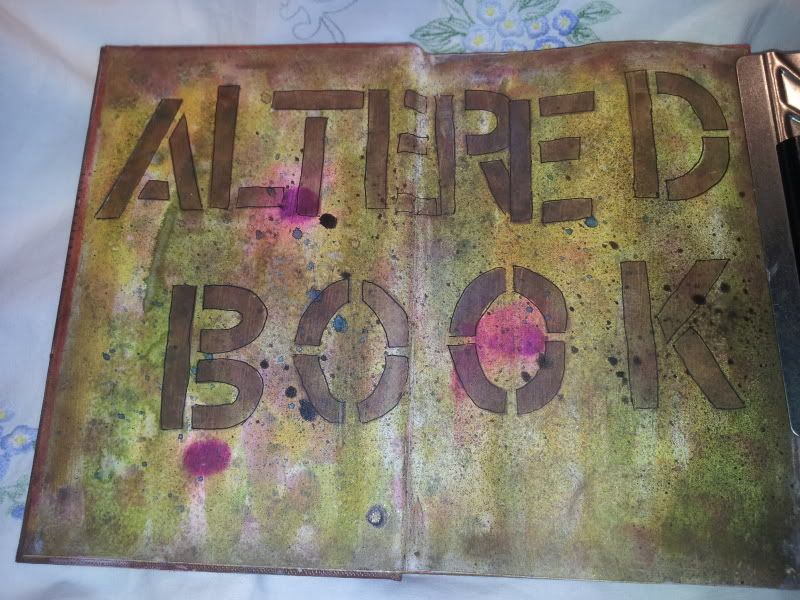 I stuck down some thin card/thick paper..... coloured it using Alcohol Inks, Distress Inks and oversprayed with some Glimmer Mists, I then used a stencil from my stash and some Distress ink for the words and just outlined them with a fineline marker. I wasn't really too fussed if I got the letters straight or not... I tend to like the grungy / messy look anyway as I think it lkind of gives it some character!
These are the next two pages....
These are the "Technique" pages.... This is where I played with Gesso!!! I stuck down the pieces of paper that were cut from the Niche at the back of the book, again wasn't fussed if they were the right way round/up or down!! I used Gesso for glue...not sure if I will use it again for glue or not because the pages are rock solid! We'll need to wait and see how things progress though! I may just end up using it for prepping the pages. I haven't prepped ALL my pages yet simply because I'm not sure what I'm going to do so I will prep them as I go along.
anyway...after using the offcuts and sticking them I coloured them using Distress Stains. I drew 'stitches' with a black Pro marker because I wanted a kind of patchwork look....I just 'filled' each piece with what I'd been doing to the pages if you get my drift! The tag is done using off cuts, distress stains and the 'naff' phrase is written in black promarker!
I think I will go with the techniques theme though, it's kind of fun experiment with things and waiting to see the end results! It's a great way to get practice on certain techniques and also try some new ones
So once again I'd like to thank Elizabeth for her patience in preparing these tutorial for us all, especially as she is having sooooo many problems with Blogger just now!
Take care everyone and thanks for dropping by,
Jackie x