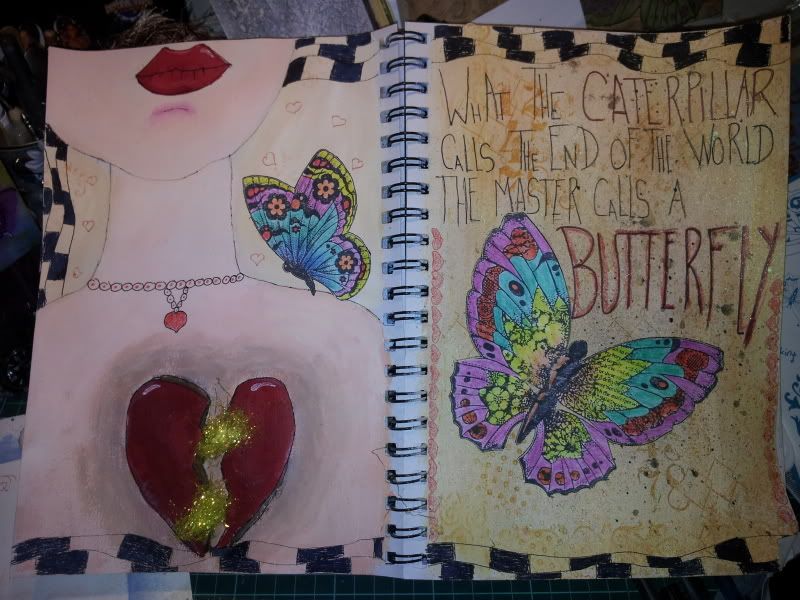 First bit of crafting I've done in over a month!! EEKS! Boy did i miss it! I REALLY enjoyed doing these pages today!
I've had this idea in my head for a wee while and that's mainly down to the help and support I've been getting from people regarding my abysmal domestic situation! They kind of symbolise "hope" ! A kind of "no matter how bad things are just now they will turn out ok in the end" sort of thing....
I drew and painted the lady with a mix of acrylics, reds yellows and white, while she was drying I then mixed what was left of all the colours together then roughly painted the background on the facing page! While THAT page was drying I went back to the lady and painted the broken heart. Those yellow 'fluffy' things you see are supposed to be cocoons! It is in fact some Stewart Gill Glitteratti which is unfused!
The Butterflies are from
Chocolate Baroque Patchwork Butterfly Themeplate
and the phrase and some of the background scrolls are from the
Butterfly Whimsy themeplate
.
I stamped the butterflies onto some 160gsm paper with black memento ink and then coloured them using The Inktense Pencils!! LOVE these pencils! The colours are just so vibrant! I really must get more!! :)
I just finished off the pages with some curved checks and a few love hearts dotted around the place!
I am REALLY pleased with the way this has turned out, especially since it's been over a month since I have done ANY crafting at all!
Thanks for dropping by,
Take care
Jackie x