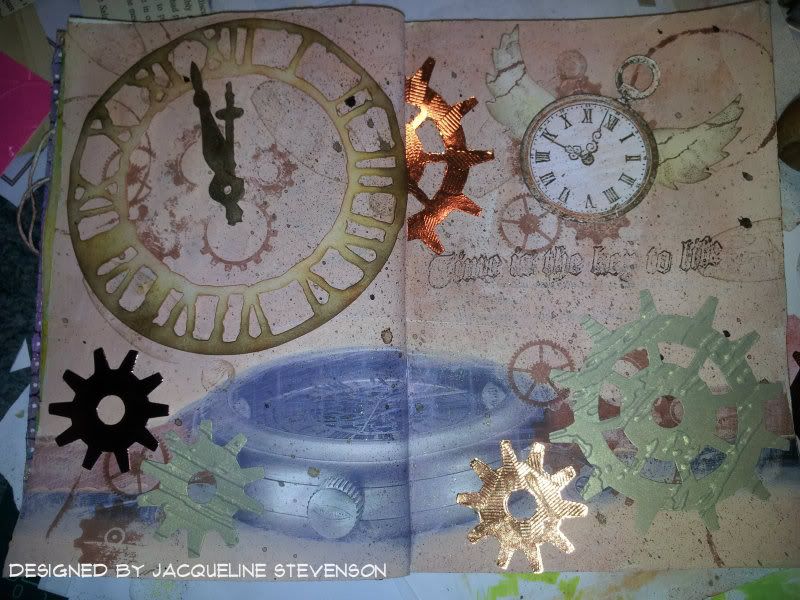 Think I've covered ALL the bases for lesson 5 with this one!! lol maybe even managed lesson 6 as well!!
After struggling a lot the other day with the "UNITY" part for this lesson over on
Elizabeth's workshop for the Altered Book
I went back and read and re read the instructions!
While reading the list :-
Harmony
Unity
Balance
Movement
Emphasis
I thought .... " sounds like the ingredients for a good Swiss Watch "!! lol... I have no idea where it came from really but it was stuck in my head so I just went with it!!
Soooo... I just HAD to try it out! I am dead pleased with the way this spread has turned out too....
Anyway..here's how it was done.....
Background :- I ggogled a side view of a wristwatch and printed it out! Then stuck it down onto the pages along the bottom. I then covered the whole lot with Gesso and let dry.
I Mixed up some Burnt sienna and White acrylic paint ... now i never mix my colours to a 'solid' colour... I like leave them 'badly' mixed because seeing the brush strokes and differences when you are brushing on the paint seem to give a lot of 'texture'!
I then over sprayed with Cosmic Shimmers and antique brown spray inks. After that I randomly stamped pocket watches from
The Time and Keys themeplate from the Artistic Stamper
. I then used the Mini cogs background stamp again from The Artistic Stamper, The big rings are actually from the lid of a stackable storage container!
The Winged pocket watch is again from the Time and keys themeplate as are the words! The wings are part of the Alterations Winged Heart Die.
The big Clock is the Weatherd Clock Alterations die and if you look closely there's a rather subtle reference to an Iron Maiden song in there too lol... (for those NOT in the know it's Two Minutes to Midnight)!! Oh come on!... I just HAD to!!! lol...
The cogs and gears are yet another Alterations die, Gadget gears to be exact and are cut from off cuts of textured mirror card in copper and plain gold, which was then run through a cuttlebug Woodgrain embossing folder.
Over all I have enjoyed this piece today....and I think it all works well together...What do you all think... not only have I done what was asked (I hope).... but I've also thrown in a 'subtle' play on words as well....!!
Take care everyone and thanks for dropping by
Jackie xx