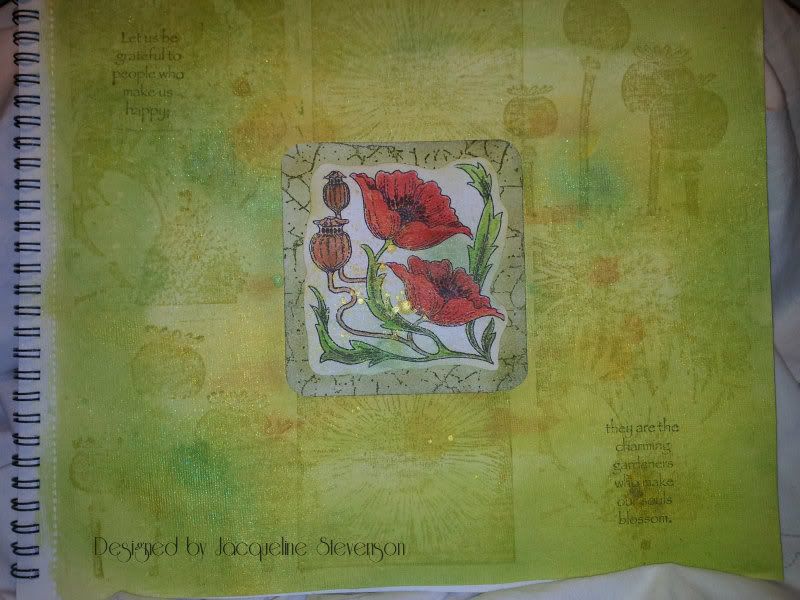 I was having a little play today with the canvas pad I bought a few weeks ago, I haven't used this stuff before as I've only worked on the stretched deep frame canvases!
I was pleasantly surprised the way this piece turned out, wasn't really sure what it would be like being my first try on this stuff!
Believe me when I tell you though that the centre image blends in a LOT better than in that photo! It was taken using my mobile phone! Anyway... The main image is from the
Flora and Fauna themeplate from Chocolate Baroque
. It was stamped onto white card which was sprayed with mint green and yellow Glimmer Mists. I coloured it using Inktense Pencils (my favourite). I distressed the edges of the image to soften it slightly, just matted and layered it onto some card which was distressed and then overstamped!
The background of the canvas was quite simply done actually....I sprayed the whole sheet with water then gave it a was with a Ranger paint dabber in Lettuce, dried it off with a heat gun then dotted around some Wild Honey Distress stain, which was immediatley sprayed with water then wiped away using a baby wipe! Dried that off then over sprayed the whole thing mint green and yellow Glimmer mists.
I then over stamped with some various floral stamps from my stash! (Don't you just love those poppy heads) . I just added the little phrase from the same themeplate as mentioned earlier to just balance everything out a little!
REALLY pleased with this piece and I love the colours! I am not usually a fan of green but think but it's quite a yellowy green it has 'warmed' it up a little!
Thanks for dropping by
Take care and have a great weekend!
Jackie x