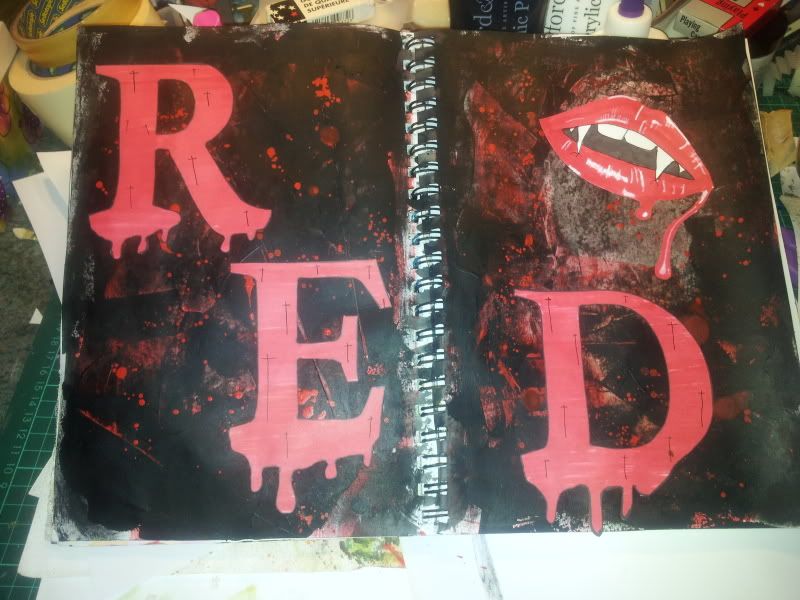 Over on
Hel's Blog
The theme this week for the Sunday Challenge is " Red" !!
Now you'd NEVER guess I was watching a horror movie last night would you lol!... Yep! I'm one of those blood thirsty people who just loves to curl up with a fantastically gory horror movie....love anything to do with Vampires, Werewolves, Zombies or just general loss of lots of limbs and blood!! lol...So I couldn't resist doing this journal spread! It was the first thing that popped into my mind when I read what the theme was!
Anyway.... I was all 'girlied' out after finishing off that Tim Holtz Print Tray so just felt like a wee change!
firstly I gessso'd the pages with an old bank card, dried it off, spread red acrylic with an old bank card, dried it off, then spread black acrylic with an old bank card and dried that off! When it was dry I made up some runny red paint and flicked it onto the pages to give a decent 'bloodsplatter'! cool huh?!! lol .
Put it aside to dry while I worked on the letters, which are in fact plastic templates, I drew round them but added drips of 'blood' along the bottom of the letters. Coloured them with red promarker , cut them out and then stuck them down and added some little black crosses.
The Vampire lips are drawn by me, (badly) but I used Google for decent EASY images to try and copy! (I'm terrible at drawing) lol!
All in all a suitably gory and atmospheric double page spread! And trust me, those reds are MUCH more vibrant than in the photo, the flash form my camera has washed it out slightly!
I REALLY enjoyed this spread! It's just so... well ... ME !!
Take care and thanks for dropping by
Jackie x