** EDIT**
I have had a little play about with the "smile" page because I felt that the phrase needed to 'pop' a little more, it looked a bit 'lost' in the background! So here's what I did to change that...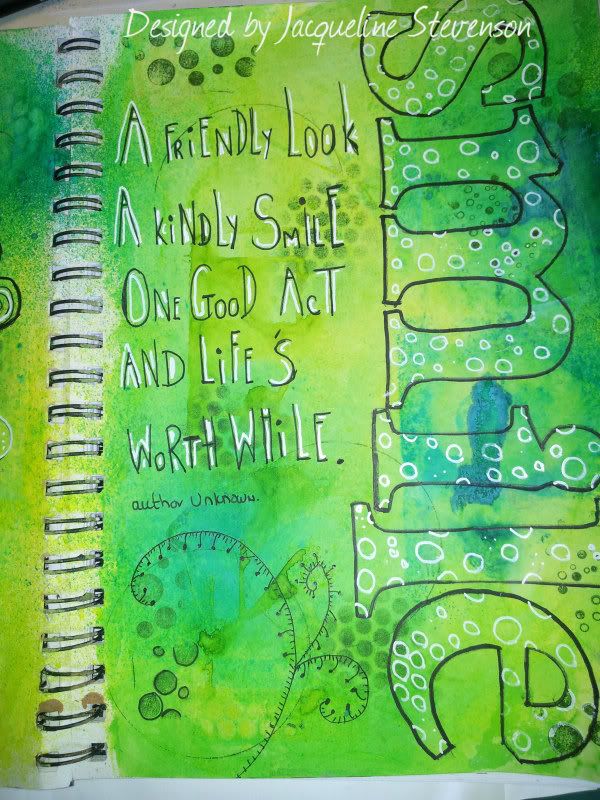 I highlighted the lettering with my white paint pen! It really makes a difference doesn't it! Now the reason for editing this post rather than reposting is simple, I belong to a giant bloghop ! What's On Your Workdesk Wednesday or WOYWW for those in the know! If you click on the badge for it in my side bar you will see what it''s all about,.....anyway I digress....I've had a few comments on my journal pages so I decided to link my blog this week instead of just a single post to give people a better chance to look at some of the pages I've done! So I didn't want to repost and drop the original post down, with over 100 participants in this hop it can be time consuming having to scroll down for the origianl posting...
Anyway, I was given a link by one of the WOYWW'ers to
THIS PLACE
The Art Journal Cafe, and I have decided to join! I am new to Art journaling so I'm enjoying experimenting different techniques and I think this place will be a great help! So my first Art Journal challenge begins! :) Wish me luck!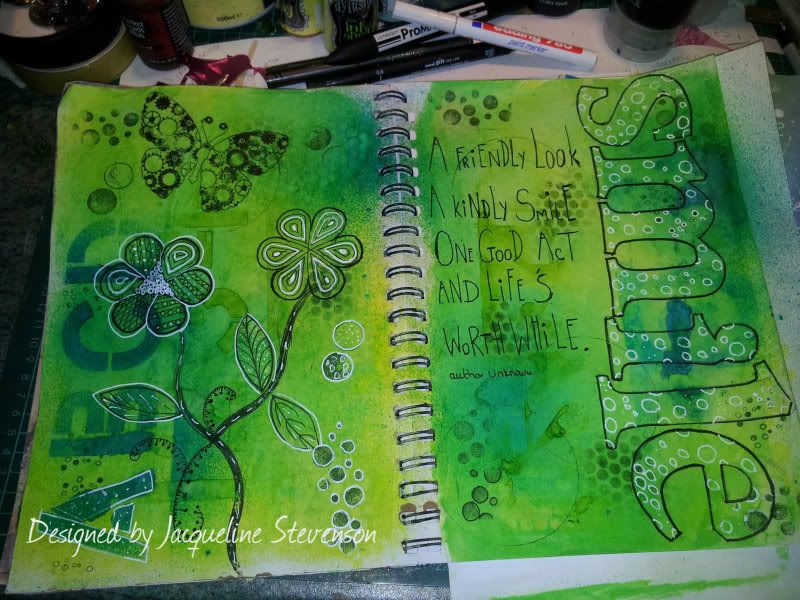 Scotland saw something rather incredible today! Yep! Sunshine!!!! Soooooo off outside I went to sort out the jungle that is supposed to be my garden! So you can see where the inspiration for these pages came from!
Now they are not nearly as 'green' as they appear in the photo so it must be the flash on my camera-phone, call it what you will lol.
I started by giving the pages a Gesso base then when it was dry I sprayed with Dylusions Lemon Zest, then spritzed with water. dried it all off with a heat gun, sprayed over some Dylusions Fresh Lime and spritzed with water then dried off with a heat gun. I did the same thing again with the Vibrant Turquoise but after I'd dried it off I wiped it over with a baby wipe to soften it slightly! Gave the whole thing another spritzing with water and then dried it off and went for a coffee.... lol
I founds some old letter stencils in a charity shop a wee while ago and just knew they would come in handy for something... so I sprayed some inks through those as part of the background. I used some sequin waste and smudged through some green Stazon randomly over the pages.
And now for the stamps... I used the mini dots and solid dots from the
A6 #2 Border stamps from The Artistic Stamper
and stamped those randomly over the pages again in Green Stazon.
The flowers were done using the plain squiggle/flourish from the
A6 Borders # 1
, the blooms were from the
Flower Power plate
as are the leaves and the big solid and hollow dots, which are actually the centres for the blooms! I just used a Black Uni ball fine liner and and a white paint pen to do some doodling and highlight some of the bits and pieces on the page. I finished that off with the
Tick Tock Butterfly
stamped in Black Memento ink.
The word "Smile" was done by drawing around some plastic letters, I just used a black uni ball fine liner and a white paint pen to fill in the letters with some doodles!
The phrase is one I found on the Internet and it's by an unknown author so I can't give credit for such a lovely little verse!
Here's a close up of the part of the pages....
These pages are a lot more brighter and cheerier than the last ones i posted and I did enjoy getting very inky doing these! Must get some more of those inks though, they are really bright and very colourful! Just love them!
Thanks for dropping by
Take care
Jackie x