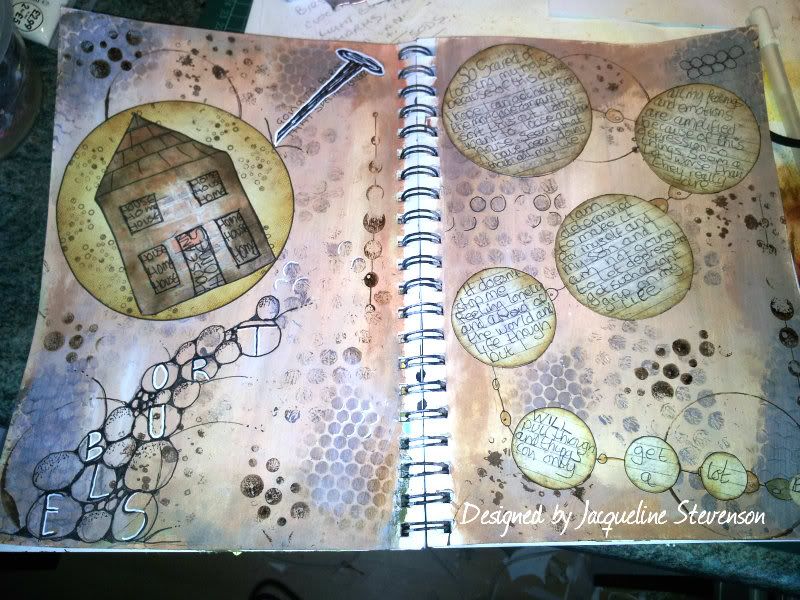 Oven on
HEL'S BLOG
for the Sunday Stampers Challenge the theme this week is "Circles"
Now I have NOT had a very good week last week and just basically had a bit of a struggle with my depression , just got so much going on with this divorce and stuff that I think things just got on top of me a little. My mojo wouldn't make an appearance either so I just kind of fell apart a little.
Anyway, I thought I'd 'do' something today rather than vegetate in front of the telly so I picked up my journal and just 'poured' out a few thing in that!
Here's a close up of the pages.....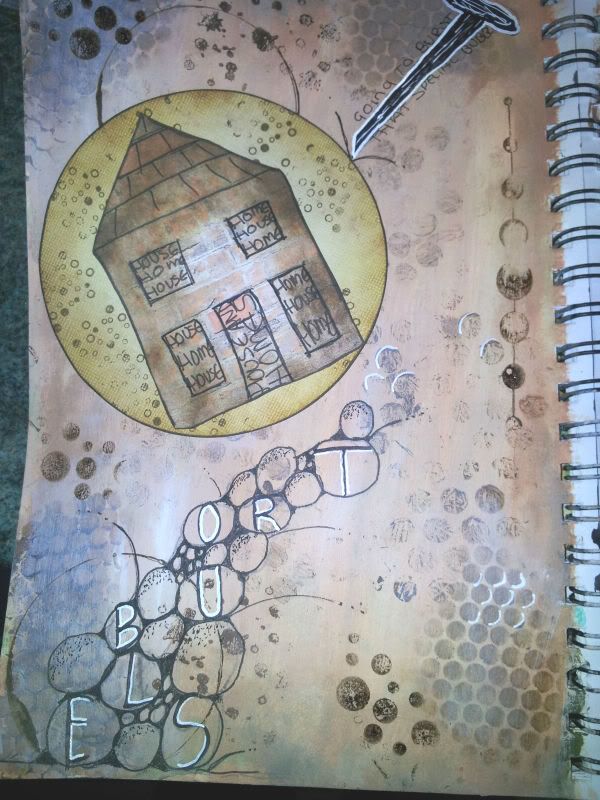 The pages were already painted as I had used up what was left on my 'pallete' (an old CD) . So I just finished them off a bit using Sequin waste and bubble wrap! The big rings were done using the lid of a coffee jar and some brown acrylic paint along with the
Borders A6 #2
From The Artistic Stamper.
The big circle is supposed to represent a bubble and was done by drawing on a cut off of some scrapbook paper around and old CD then stamped over using the above mentioned stamps, the house was drawn onto some brick design scrapbook paper and then distressed using, Walnut Stain distress ink. I drew in a pin (badly) about to burst that burst bubble, then tried my hand a some 'stacking doodles'! I decided to try the circles and they are sitting very precariously and look about to topple.....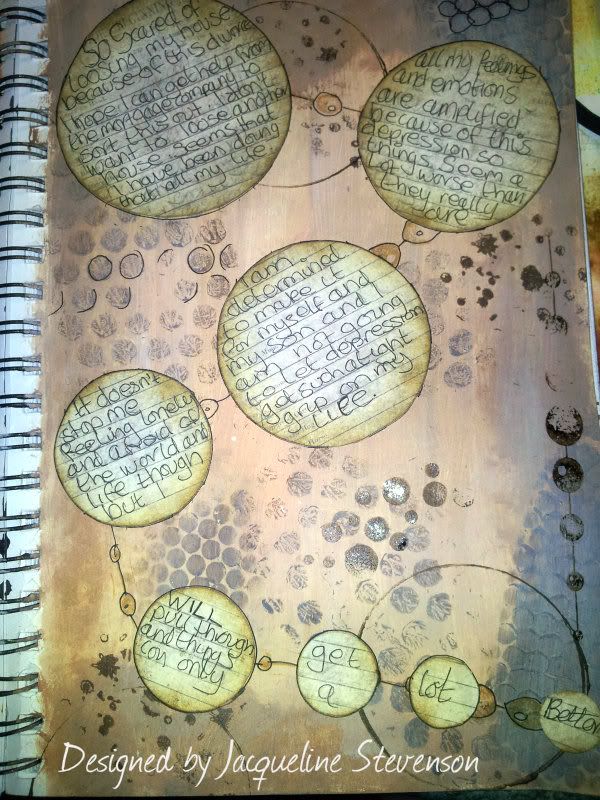 These circles were done using the lids off various sized containers of 'stuff' and some coins, I just drew round them all onto some of the Tim Holtz Crowded Attic papers, needed the notebook lines to help me a little with the writing, haven't really done too much writing so just getting in some practise.
I must admit, this project isn't very cheerful and quite sad and depressing really but it helped a little to try and get myself going and a wee bit more motivated. You can click on the photos to enlarge them a bit if you would like a better look.
Thank you for dropping by and I apologise for being in a rather low mood, it WILL pass.
Take care
Jackie x