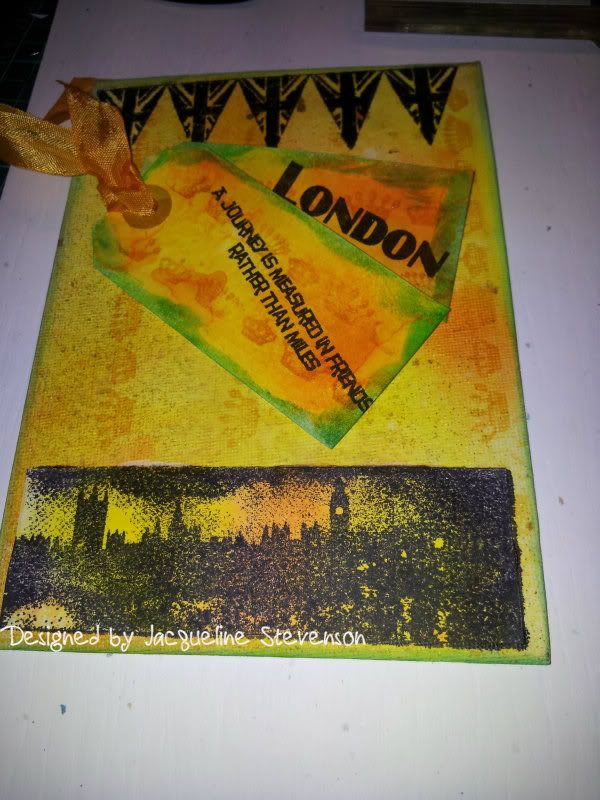 Well, I managed to drag my sorry A** upstairs and have a go at some crafting....just decided to play with the stamps that I won the other week, I also played with the the other product that I bought while choosing my stamps...those wonderful Dylusions Inks! WOW! Are they funky and bright or what! Love them!! And will definitely get more!
Anyway, I bought a pack of canvas board while I was in town for the usual Job centre visit (oh how i hate that place)! So thought I'd have a try with it when I got home!
I sprayed the board with Lemon Zest Dylusions, then sprayed with some Golden Fish Cosmic Shimmer, blended it together with a baby wipe then gave a slight squirt with some Copper Cosmic Shimmer! Put it aside to dry and then worked on the embellishments.
I used the
LONDON Theme plate
and stamped onto some card which had been sprayed the same colour as the canvas with Black Memento ink, I dried it off then cut it out and stuck it down to the canvas at the bottom, I used the crowns border and stamped stripes using Wild Honey Distress Inks, and then used the Bunting to stamp along the top ! I made two tags again sprayed the same colour as the canvas and stamped the wording again using Black Memento, The wording on the top tag is from the
Travelling Words plate
, (love that little phrase). I sprayed a teensy amount Vibrant Turquoise Dylusions onto a wet baby wipe and just brushed around the edges of everything, it looks 'green' but then it would do going on top of yellow.... *sighs* but it does make everything 'pop' !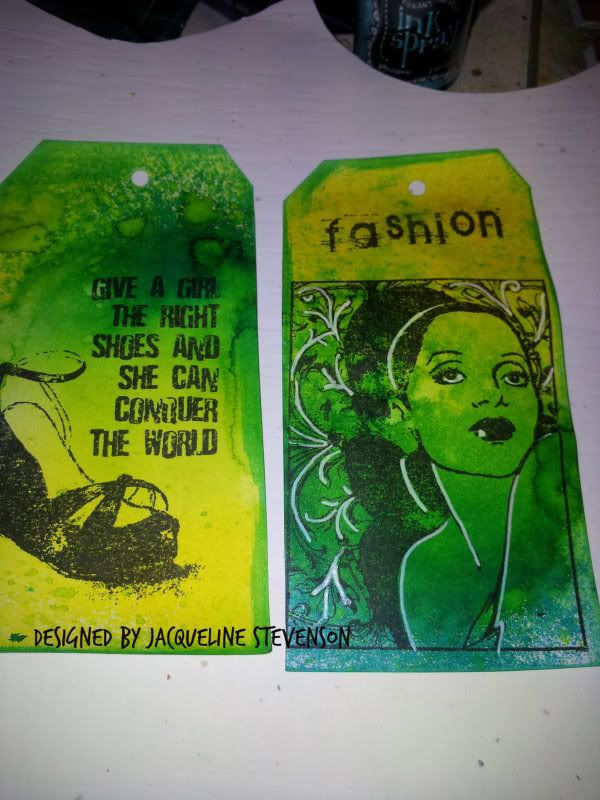 These two tags were dead quick to do! Again playing with Dylusions Inks... Lemon Zest, Fresh Lime and Vibrant Turquoise! Sprayed over both tags, spritzed with water then dried with a heat gun!
The stamps are from
Chocolate Baroque
and stamped using Black Memento ink! I highlight some of the swirls on the lady with a White Sakura Souffle gel pen just to make it stand out a little! First time I've used this stamp set in ages! I just thought it went well with those inks!
Thanks for dropping by
Take care
Jackie x