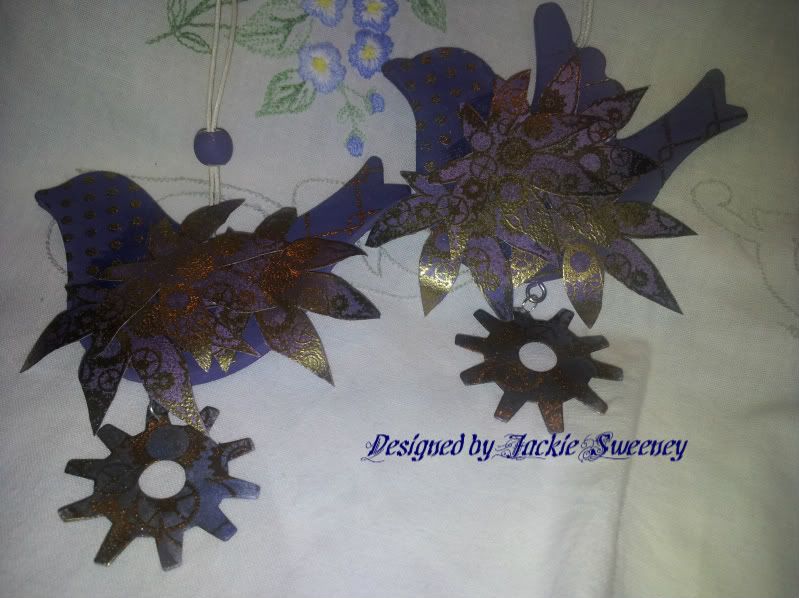 Love love LOVE these
wee wooden birdies
!! I painted them with Acrylic paint in Eggplant! Then when dry I sprayed them with some Glimmer Mists to give them a wee bit of a sheen. I then over stamped with
the Chicken wire background and Dots background stamps
then heat embossed in gold embossing powder. The 'feathers' are actually the
leaves
from the
Tick Tock Flowers theme plate
! With those I just sprayed some lilac coloured paper with Glimmer mists, stamped out and embossed the leaves and then cut them out!
The cogs are the small cogs from the Alterations Gadget Gears die! Those were sprayed with Glimmer mists and over stamped using the
small flower
from the Tick Tock Flowers theme plate! I just attatched them to the loop on the bottom or the ornament with a jump ring!
Here's a close up of one of the birds so you can have a better look....click on the photo to enlarge...
I'm thrilled to bits with the way these have turned out and you can bet your life I'll be doing more!
Thanks for looking in
Take care and Happy Crafting
Jackie x